Welcome to the Landrake with St Erney Parish Council Website
Parish Council 2021-22 meeting dates
2021
Tuesday 1st June 2021 - Informal Council information meeting by Zoom
Tuesday 8th June 2021 - Main hall of Sir Robert Geffery Memorial Hall
Tuesday 13th July 2021 - Main hall of Sir Robert Geffery Memorial Hall
Tuesday 14th September 2021 - Main hall of Sir Robert Geffery Memorial Hall
Tuesday 12th October 2021 - Main hall of Sir Robert Geffery Memorial Hall
Tuesday 9th November 2021 - Main hall of Sir Robert Geffery Memorial ha
2022
Tuesday 11th January 2022 - Main hall of Sir Robert Geffery Memorial hall
Tuesday 8th February 2022 - Main hall of Sir Robert Geffery Memorial hall
Tuesday 8th March 2022 - Main hall of Sir Robert Geffery Memorial hall
Tuesday 13th April 2022 - Main hall of Sir Robert Geffery Memorial hall
Latest Parish News
Environment and Sustainability Group Community Survey
Community Survey for Landrake with St Erney On behalf of the Parish Council ("PC") and the Environmental Sustainability Group ("ESG") HAVE YOUR SAY - By answering this short questionnaire your vie ...
COMPLETE THE SURVEY ONLINE USING THIS LINK
11th September 2021
Environmental Sustainability Working Group 9th September 2021
AGENDA 1. Apologises for absence. 2. Approval of notes of meeting 15th July 2021 3. Matters arising that are not agenda items 4. Seed Swap Box PM 5. Tree planting Poldrissick, Applying for a L ...
6th September 2021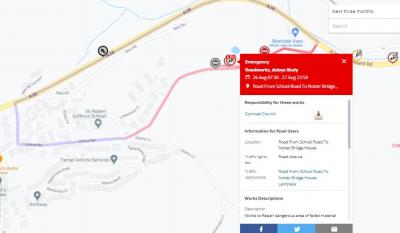 Highway mainteance and road closure information
Road Traffic Regulation Act 1984 S.14: Temporary Prohibition of Traffic Location: School Road to Notter Bridge House Timing: 26th August 2021 to 27th August 2021 (07:30 to 17:00 ...
26th August 2021
More News Items