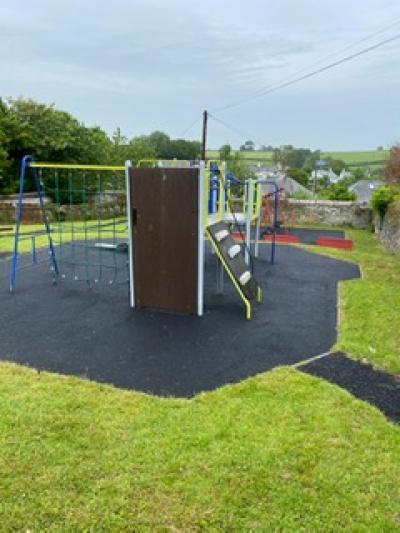 Landrake School Road Village Play Park
Landrake Parish Council are very pleased to confirm that we have had a team from SMP play equipment down to our village playpark in School road this week, to undertake major replacement of parts and repair work on our ageing play park equipment and safety matting, following our yearly safety audit on the park and equipment from an external ROSPER safety company, who highlighted potential safety issues with some wearing parts of the play equipment. We have had the following equipment replaced
- Cargo climbing net, completely replaced, along with the anchorage points, then tension structure and the concrete foundations. The Multiplay climbing ladder and its fixings and climbing blocks were replaced. The handles and foot holders on the two ride on the springer equipment were replaced as the old ones did not conform to current safety standards Several areas of the safety matting underneath the play equipment which has been damaged were also repaired.
All the work has been completed and the playpark is now open again and all equipment is safe and complies with safety standards. We have had the work undertaken by SMP play equipment company, as we felt its better that the replacement parts and work are completed with safety in mind and with a warranty also in place on the repairs. The parts and refreshment work cost a total of £3,500.00.
We as a Parish Council have been able to undertake this refurbishment with the help from many donations very kindly contributed by local people, various fund raising activities like plant sales, garden visits in the community, the Carnival committee, and Landrake Menhinick Christmas lights show and many others, we are grateful for your help. This has depleted our Playground fund as we were saving to replace some of the equipment and were looking at adding some new equipment in the future, but that will take a bit longer now, in the meantime we are very grateful for everyones' fundraising efforts, and please feel free to continue fund raising for the playpark for the future goals of the site.
28th June 2021