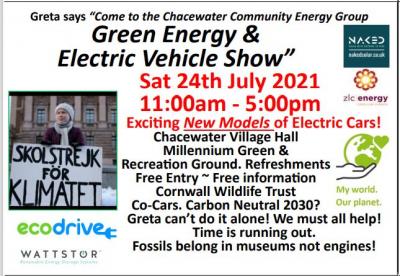 Chacewater Community Energy Green Energy Fair and Electric Vehicle 24th July 2021
Email received from Chacewater Community Energy Group
Good afternoon,
We are pleased to note the recent relaxation of the covid restrictions, so we would like to invite you and all members of your respective parish councils to attend our up-coming Chacewater Community Energy Green Energy Fair and Electric Vehicle Day 24th July 2021. We attach an electronic copy of the posters / flyers. Could you post on any notice board you may have?
We hope the show will be of interest to you, please get back to us with any questions. Visitors can claim a FREE COPY(!) of the excellent book by the Stithians Energy Group "Climate Change Explained", worth a guinea a box! Please forward this invitation to all friends, relations, neighbours, work colleagues. We cannot promise good weather, but we can promise a fascinating day, and free organic coffee (donations welcome!).
The Renewable Energy part of the show is to be held on the Millennium Green adjacent to the hall or possible some parts in the main Chacewater Village Hall. Show times 11:00am to 5:00pm. The Electric Vehicle part of the show is to be held on the recreation ground. Most of the local EV dealers are exhibiting. Lots of new models.
On the patio of the complex we are planning a series of excellent talks from internationally recognised speakers.
11th July 2021