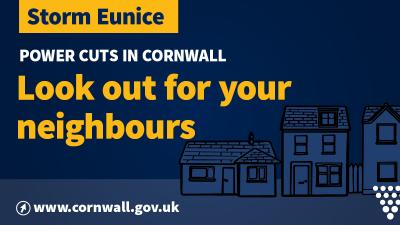 Cornwall Council - Look out for vulnerable friends and family
We're asking our residents to look out for their vulnerable neighbours, relatives and friends this evening at Storm Eunice leaves at least 27,000 properties in Cornwall without power.
Storm Eunice has left in its wake a lot of damage and disruption Ė including power outages for many households across Cornwall.
While the power companies are doing everything they can to get households back on grid, and the council and our partners are working hard to clean up the debris and damage left by the storm, there will be residents who, this evening donít have power at home.
https://www.powercut105.com/
18th February 2022