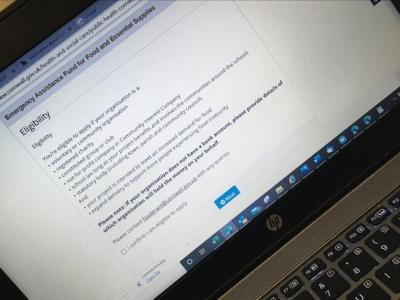 Funding for community food groups
Update 15/12/2020: The application process is now paused until the 11 January 2021. You are welcome to submit a new application during this time.
Cornwall Councilís new Emergency Food Assistant Fund can give grants of up to £25,000 to community food groups supporting people who are struggling to afford food and other essentials due to COVID-19. Cornwall Council has received a grant allocation of £628,000 from DEFRA, the Department for Environment, Food and Rural Affairs, to run the programme.  

Existing and new community food organisations across Cornwall, including non-constituted groups, can apply for funding. This can be used to pay for food, equipment, storage, transport costs or any other items which can build their capacity, infrastructure and resilience so they are in a stronger position to help their communities access emergency food and essential supplies.

An organisation can apply for a maximum of two grants. Grants can be spent on revenue and capital to enable support for infrastructure costs, which many groups have said they need help with.

Recipients must spend their grant by 31 March 2022. This is to allow sufficient time for the grant to have a more sustainable impact.

Please share this information with community food groups in your area.
2nd November 2020